As the official distributor of RUCKUS products in Hungary, we have a chance to get an insight behind the scenes from time to time – to get to know innovations and planned improvements. This year, RUCKUS will continue to bring novelties into the field of IoT and take the application of artificial intelligence in network management within the IT sector to a whole new level.
In the following article, OMIKRON's IT Architect, László Fodor, has collected those developments which could bring the greatest changes in the near future.
Let's begin with a quick review of the basic elements that make the RUCKUS IoT Suite fast and easy to use.
RUCKUS IoT Suite
The following components make up the RUCKUS IoT Suite:
RUCKUS IoT modules: Radio and Radio-and-Sensor devices which connect to RUCKUS IoT-ready APs to enable endpoint connectivity based on such standards like Bluetooth Low Energy (BLE) and Zigbee.
RUCKUS IoT-ready access points (APs): using RUCKUS IoT, they provide built-in IoT support for multi-standard wireless access for Wi-Fi and Wi-Fi IoT endpoints.
RUCKUS SmartZone & IoT controllers: Network controllers which provides an interface for WLAN and IoT traffic management.
RUCKUS IoT Insights: A virtual controller which supplements the RUCKUS IoT controller. It offers application-level analysis, management and logging of RUCKUS IoT events with a focus on application-level solutions.
NEW!
RUCKUS IoT Insights 2.0 – Real-time data collection and analysis
One of the most promiment components of the RUCKUS IoT Suite is IoT Insights 2.0, an intelligent analytical tool which offers a comprehensive overview of the performance and operation of IoT networks. With IoT Insights 2.0, we can monitor and control the status of devices real-time as well as collect and analyize data about them. RUCKUS IoT Insights provides an API which allows the integration into a third party building management ecosystem.
Technological innovation: developing support for LoraWAN sensors is under way which will significantly increase the range of IoT devices.
Artificial intelligence-driven (AI-driven) network management and control
RUCKUS One – it's the present, not the future
Supporting faster and better business decision-making + unique user's experience
RUCKUS One is an AI-driven network management and business intelligence platform that simplifies public and private enterprise network installation and control. The intuitive, purpose-driven processes enable faster network deployment, management and monitoring:
on multiple premises,
on multiple customer networks,
at the same time,
through a single user interface.
Network monitoring and modifying network configuration are accessible anywhere, anytime with the RUCKUS One mobile application!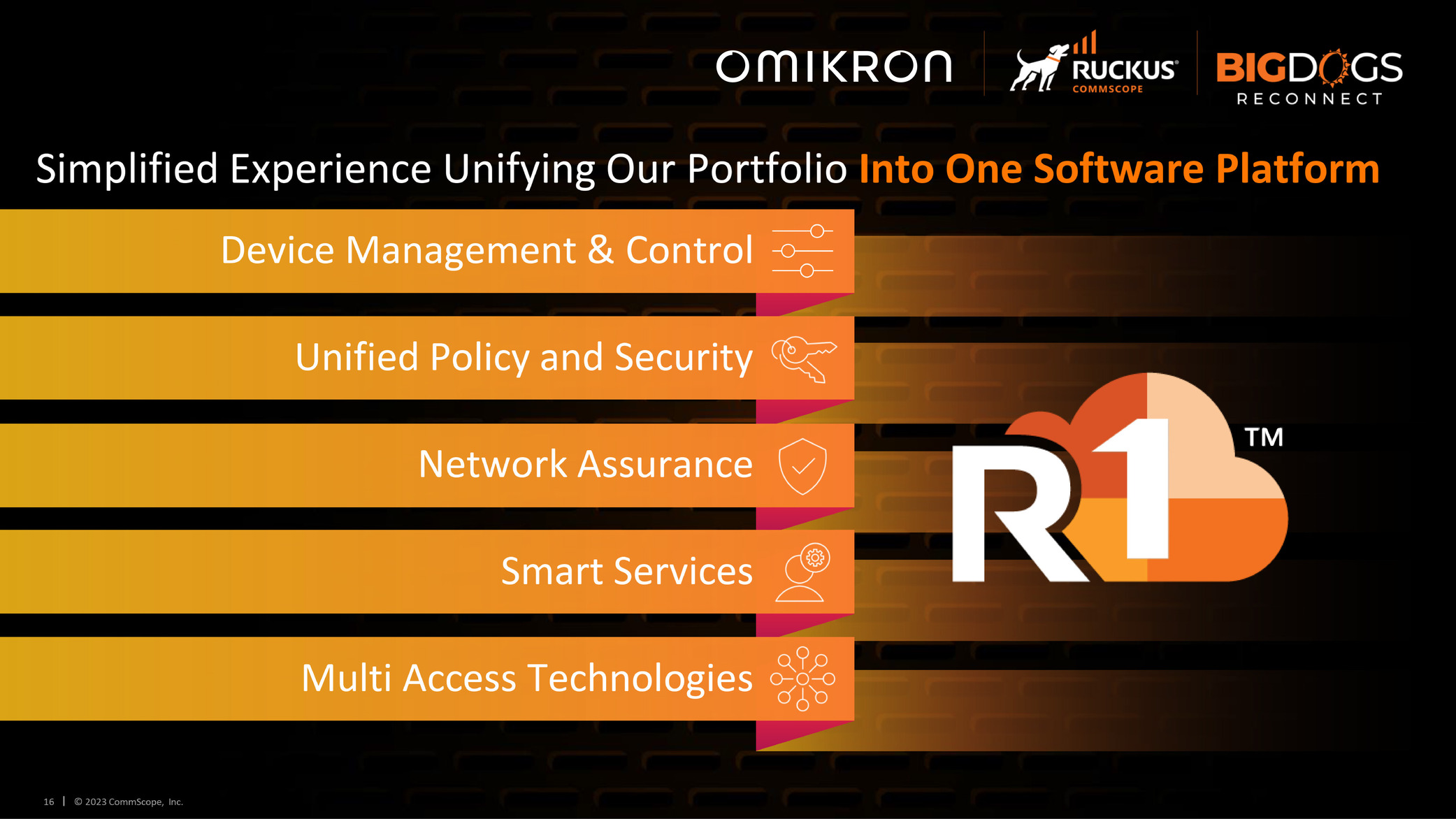 Using advanced artificial intelligence, RUCKUS One reacts quickly to the problems with the service and prevents network anomalies from causing service outages. Events are classified according to their criticality level and prioritization of tasks is based on this classification. Not only does it idenfity and creates reports about incidents but it also conducts root cause analysis (RCA) and makes suggestions for solving incidents.
NEW!
The artificial intelligence-driven cloud radio resource management (AI-RRM) that minimizes interference and determines the optimal Wi-Fi channel and channel width.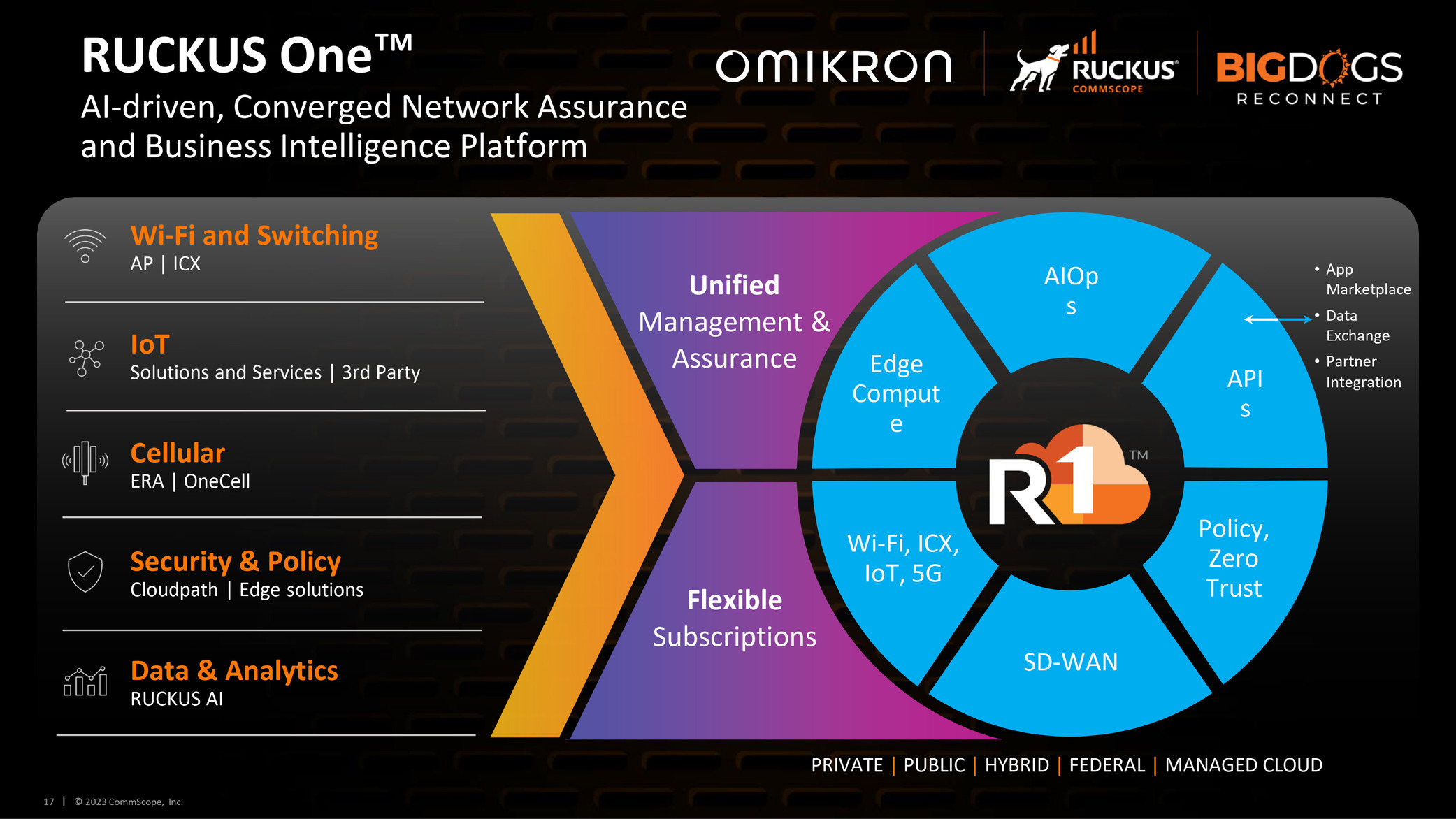 RUCKUS One is available from June 14, 2023. All additional developments mentioned in this article are promised by RUCKUS by the end of this year (2023) or by the beginning of next year the latest.
If you have any questions or need more information, don't hesitate to contact us.